Every now and again I am lucky in that I open up my mail box to a wonderful surprise. Today was one of those days as Journey received for our review a brand new crupper made of 3/4 inch beta. This is the one part of Journey's tack that was sorely in need of replacement. I reached in the package and pulled out an incredibly nice crupper with all stainless steel hardware. I ran my fingers over it and thought...this thing is leather, it has to be...I was so convinced that it was indeed leather that I had to take it out into the sunlight and look at the cut edges to discover it was indeed beta biothane, Very high quality beta.
While I had it in the outdoor light I thought I'd check out the workmanship (ie: stitching) on the crupper.
Nice heavy duty stitching on the front
As well as the back.
High quality stainless steel on all of the hardware (they offer brass for those who like it)
But it is the actual tail piece that makes this crupper rather unique.
It appears to be leather...however they have stuffed it full of flax seed to keep it
pliable and self oiling
. Retail price: $40 (that is a great deal).
Two Horse Tack
makes bridles, halters, halter bridles, cruppers, breast collars, reins, and dog collars in both bright and traditional colors which include: Red, Orange, Yellow, Lime, Teal, Purple, Hot Pink, Wine, Brown, Black, White, Hunter Green, Light Blue, and Dark Blue.
Some of their items (BE STILL MY ♥) come in CAMO (orange, pink, and green). I was nearly lusting over the idea of CAMO tack.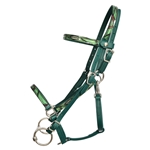 Black however for my crupper is perfect as it will mix with all my other gear. But I swear...camo is somewhere in my future.
I can't wait to attach this to my gear and ride.
A full report after a long ride on The Spotted Wonder shall follow!
Addendum: June 8, 2014 the crupper from Two Horse tack is performing flawlessly. I keep looking for a negative and am happy to report that I couldn't find any. Journey has had no chafing, no rubbing, zero behavioral issues associated with the new tack. As for me, I completely love the new tail piece on this thing, and being able to leave it attached to the saddle all the time, and just simply unbuckle and slip the tail piece under the dock, and back up to buckle. It is like easy-peasy, I'm sure pleased with it.